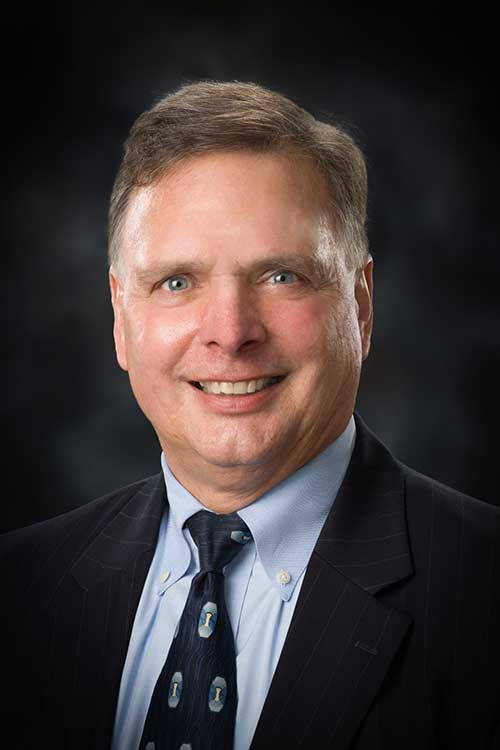 Russ is an active trial attorney. For the first 15 years of his practice, his principal focus was defense work. That focus has now shifted to plaintiff work. However, he maintains a balanced perspective. He is Board Certified as a Civil Trial Specialist by the National Board of Trial Advocacy and now focuses on complex trials and appellate cases. He also devotes much of his time to auto and other product liability cases.
He returned to Stevens Point to begin his practice at our firm in 1981. In 1986, Russell became a partner in the firm. He has practiced at the firm for over 30 years, and with the push for alternative dispute resolution (ADR), he averages 1-2 jury trials a year.
Russ is Past President of the Wisconsin Association for Justice (WAJ), as well as a member of the Legislative Task Force Committee, Membership Service Committee, and a member of the Board of Directors. WAJ is the largest voluntary bar association in Wisconsin and is dedicated to preserving the right to a jury trial and promoting a fair and equitable civil justice system. He is also a member of the AIEG (Attorneys Information Exchange Group).
Education
College: UW-SP (B.S. in Mathematics and Political Science 1976)
Legal: Marquette University (J.D. 1979)
Certifications
Board Certified Civil Trial Specialist by National Board of Trial Advocacy
Named a Wisconsin Super Lawyer in 2006, 2007, 2008, 2009, 2010, 2011, 2012, 2013, 2014, 2015, 2016, 2017, 2018 and 2019.
Admitted to Practice
State Bar of Wisconsin
U. S. District Court for the Western District of Wisconsin
U. S. District Court for the Eastern District of Wisconsin
United States Court of Appeals for the 7th Circuit
Appellate Court Cases
Erdman v. General Motors, 2007 Wisc. App. LEXIS 898 (Appeal Nos. 2006AP1754, 2006AP2707; Dane County Case No. 2005CV2616)
Swiderski Equipment, Inc., et al v. James Swiderski, et al, 2017 Wisc. App. LEXIS 91 (Appeal No. 2016AP700; Outagamie County Case No. 2008CV1654)
James Swiderski, et al v. Alex Swiderski, et al, 2016 Wisc. App. LEXIS 296 (Appeal No. 2014AP2061; Marathon County Case No. 2010CV1331)
Hoida, Inc. v. M&I Midstate Bank, Supreme Court of Wisconsin, 2006 WI 69, 291 Wis. 2d 283, 717 N.W.2d 17 (commercial litigation involving lender liability)
Mueller v. McMillan Warner Ins. Co., Supreme Court of Wisconsin, 2006 WI 54, 290 Wis. 2d 571, 714 N.W.2d 183 (application of good Samaritan immunity statute)
Scott v. Pavers Prop. & Cas. Ins. Co., Supreme Court of Wisconsin, 2003 WI 60, 262 Wis. 2d 127, 663 N.W.2d 715 (governmental/municipal immunity)
Badger Mut. Ins. Co. v. Schmitz, Supreme Court of Wisconsin, 2002 WI 98, 255 Wis. 2d 61, 647 N.W.2d 223 (Underinsured Motorist Coverage, UIM)
Roberta Jo W. v. Leroy W. (In re Robert Jo. W.), Supreme Court of Wisconsin, 218 Wis. 2d 225, 578 N.W.2d 185 (paternity)
Dobratz v. Thomson, Supreme Court of Wisconsin, 161 Wis. 2d 502, 468 N.W.2d 654 (exculpatory or future releases)
Gansch v. Nekoosa Papers, Supreme Court of Wisconsin, 158 Wis. 2d 743, 463 N.W.2d 682 (1990) (worker's compensation – temporary help agency)
Harmann v. Hadley, Supreme Court of Wisconsin, 128 Wis. 2d 371, 382 N.W.2d 673 (1986) (dram shop liability for social hosts and for those providing alcohol to minors)
Sentry Ins. v. Schrank, Court of Appeals of Wisconsin, District Four, 2005 WI App 235, 287 Wis. 2d 716, 707 N.W.2d 276 (underinsured motorist coverage, EIM)
Lecander v. Billmeyer, Court of Appeals of Wisconsin, 171 Wis. 2d 593, 492 N.W.2d 167 (1992) (medical malpractice)
Secura Ins. Co. v. Wisconsin Public Service Corp., Court of Appeals of Wisconsin, 156 Wis. 2d 730, 457 N.W.2d 549 (1989) (proper selection and retention of expert witness)
Consolidated Papers, Inc. v. Dorr-Oliver, Inc., Court of Appeals of Wisconsin, 153 Wis. 2d 589, 451 N.W.2d 456 (1989) (commercial litigation involving paper making equipment – white liquor clarifier)
Tony Spychalla Farms, Inc. v. Hopkins Agricultural Chemical Co., Court of Appeals of Wisconsin, 151 Wis. 2d 431, 444 N.W.2d 743 (1989) (agricultural chemical – farm product liability)
Timm v. Portage County Drainage Dist., Court of Appeals of Wisconsin, 145 Wis. 2d 743, 429 N.W.2d 512 (drainage district operation and governments)
Holy Family Catholic Congregation v. Stubenrauch Association, Inc., Court of Appeals of Wisconsin, 136 Wis. 2d 515, 402 N.W.2d 382 (1986) (statute of repose for architectural improvements to property)
United States Fire Ins. Co. v. E.D. Wesley Co., Court of Appeals of Wisconsin, 100 Wis. 2d 59, 301 N.W.2d 271 (1980) (statute of repose for construction and improvements to land)
Results
The key to a successful attorney-client relationship is quality service. We take the time to understand the needs and goals of our clients. Below find some of our impressive results as well as the case summaries.
Verdict awarding $2.2 million to parents of their 23 year old unmarried son for the wrongful death of their son
A very substantial and confidential settlement against Ford Motor Company (two weeks before trial)
A very substantial and confidential settlement against General Motors and American Merchants Ins. Co. (after one week of trial and appeal to the Supreme Court on UIM issues)
$1.27 Million recovery in a safe-place claim against a laundromat (after trial and appeal to the Court of Appeals)
A total recovery of $1.275 Million in a motorcycle accident (after arbitration for UIM)
A $1.1 Million recovery in a loss of life claim under 42 USC 1983 against a Wisconsin county
A million dollar settlement resulting from a plane crash in Canada
A very substantial and confidential settlement against Daimler Chrysler, now Chrysler, after two and a half years of litigation
A $269,000 verdict in a rear-end collision involving a claim of myofascial injury to the upper back and neck and headaches resulting from occipital neuralgia
$608,000 verdict in a claim against a railroad under the Federal Employer's Liability Act (FELA) for a soft tissue neck and back injury resulting in significant disability
A substantial six-figure resolution of a claim involving exposure to carbon monoxide during first six to nine months of life.
A substantial recovery of a total in excess of a half million dollars for exposure to carbon monoxide.A very substantial and confidential resolution of claims against a paper mill and a manufacturer of a center mount loader on a semi-trailer
A very substantial and confidential resolution of a legal malpractice claim against patent attorneys.
Co-Counseling
Experience in representing clients in complex personal injury cases
Co-counsel on cases where your client may need more services than one attorney can provide
Attorneys who spend all of their time handling litigation and related matters
Extensive resources that may not make economic sense for some law offices
A solid collaboration to maximize results for your client
Complete respect for your practice and your ongoing relationships with all of your clients
Diversity by having handled auto products liability,medical malpractice, workplace accidents and other defective products including construction, mowing, farming and laundromat machines and equipment
"Working with Russ Golla and everyone associated at the Anderson, O'Brien, Bertz, Skrenes & Golla law firm is like working with a trusted and respected partner and has produced significant results that I likely would not have been able to accomplish on my own. The work product is outstanding, and the fee arrangements make sense."

Attorney Carl Ricciardi, Tomahawk, Wisconsin
"Russ Golla and the Anderson, O'Brien, Bertz, Skrenes & Golla law firm added a level of experience and expertise in discovering critical information in an auto product liability claim that I would not have had without them."

Attorney Dana Wachs, Eau Claire, Wisconsin
"I know that when I look to Russ Golla and the Anderson law firm for help, they will devote the resources needed to properly develop and prosecute the case. As a sole practitioner, I could not devote the time and money to do so on my own. They have always been helpful when I call to run issues by them in other cases that I have."

Attorney Bill Mansell, Wausau, Wisconsin
Case Summaries
$1.27 Million Verdict Affirmed on Appeal
In 2001 twenty-four year old Mitch* lost his foot while using a commercial extractor at a laundromat. In the nine years he owned the machine before the accident, the owner did nothing to try to maintain it. He did not know how to service the machine, never obtained an owner's manual, allowed the machine to operate after the safety devices were broken or bypassed and never sought training in the industry. Left without a foot, a job, and with little hope following a significant injury, Mitch turned to the Anderson, O'Brien, Bertz, Skrenes & Golla Law Firm for help. Russ Golla, a partner at the firm, met with Mitch and helped him secure a favorable verdict and judgment on the verdict.
The owner argued that Mitch was negligent in his use of the machine. Ultimately, the jury apportioned 80% of the blame for the accident to the owner and 20% to Mitch. It then awarded Mitch a total of $987,000 in damages, but since he was 20% at fault, this reduced his judgment to $787,316. The owner did not like the result and appealed. On appeal, the owner's insurance company claimed that the jury and trial court should have found that Mitch was more at fault than the owner. If successful, this would mean that Mitch would get nothing. The Court of Appeals upheld the lower court and held that Mitch was entitled to a new trial on punitive damages. Upon hearing the result, the owner's insurer threw in $75,000 for punitive damages and paid what it owed. With accumulated interest and the $75,000 for punitive damages, Mitch's total recovery was $1.27 million.
With the money awarded, Mitch will be able to learn new skills making it possible for him to contribute to society and handle future medical issues that may arise from his injury. Although Mitch's dreams were dashed by this accident, his recovery allowed him to get his life back.
Verdict After Trial More than Triples Settlement Offer
Two weeks before the third anniversary of her accident and the date on which the statute of limitations would run and bar her claim, Helen* retained Russ Golla to represent her for injuries sustained in an auto accident. Helen lives in Neenah but retained Russ because he had successfully represented her and her husband on a medical malpractice case arising out of the death of their first child. In this case, Helen was injured when the other driver ran a stop sign and t-boned her vehicle on the passenger side. The force of the impact pushed her vehicle across the centerline into oncoming traffic where a second impact occurred. During the collisions, the impact of Helen's head hitting the window blew out the window on the driver's side door. She sustained a concussion and a cervical strain/sprain which is commonly known as a whiplash. Her vehicle was totaled and the car that struck hers sustained approximately $13,000 in damages.
Like most people in her situation, Helen thought that with time, her injuries would resolve. During the three years after the collision, Helen tried to get better with various modes of treatment. She incurred over $11,000 in medical expenses including substantial physical therapy as well as $7,000 in chiropractic treatment expenses. This treatment only gave her short term relief and her neck pain always returned. She retained Golla because the other driver's insurer only offered her $7,500 to settle her claim.
One month prior to trial, the defendant's insurer, Farmers Insurance Exchange, offered $25,000 to settle the case. On Golla's recommendation, Helen rejected that offer because, under the circumstances, this amount was simply not fair and reasonable. Her case was tried for a day and a half in June 2005 before a Winnebago County jury in Oshkosh. The jury returned a verdict which awarded Helen a fair and reasonable amount of damages — $78,803.50. With costs and interest, Helen recovered $85,219.39.
Canadian Fishing Trip Ends in Tragedy – Settlement Results Quickly
On May 18, 2004, Kevin* of Edgerton, Wisconsin, and two friends went off to a fishing trip in a remote area of Canada. This was the kind of trip that many fishing enthusiasts look forward to, and return from, with great "fish" stories and happy memories. Unfortunately for Kevin and his friends, there was no return trip, and tragic memories resulted. This is Kevin's story and how the Anderson Law Firm helped.
Kevin and his friends took off for their remote fly-in fishing trip boarding a DeHavilland DHC-2 Beaver aircraft used by a Canadian fishing tour operator. The pilot was not able to successfully land. While attempting to land on Fawcett Lake, Ontario, Canada, Kevin, his friends and the pilot were killed. This horrible accident left Kevin's wife, Carole*, without a husband and his daughter and son without a father. Carole needed to know how this happened and whether she had anywhere to turn for the wrongful death of her husband of 27 years. She turned to the Anderson, O'Brien, Bertz, Skrenes & Golla Law Firm and retained Steve Schinker and Russ Golla.
Steve and Russ suspected pilot error and contacted the Transportation Safety Board of Canada, the Canadian governmental agency entrusted to investigate such an accident. The results of the investigation confirmed their suspicion. On March 14, 2005, just under a year after the accident, the Transportation Safety Board of Canada issued its report and found that the accident was indeed caused by pilot error. The pilot flew a high-drag landing approach that caused the aircraft to stall at an altitude at which recovery was unlikely. In addition, the pilot did not have sufficient proficiency at this type of landing.
Carole, her children and the other families who lost their loved ones needed some way to recover from this tragic and preventable accident. Steve and Russ contacted the attorneys of the other widows and worked to coordinate the prosecution of all claims. They also discovered that the fishing tour operator, the pilot, and the plane were insured with a $3.5 million (Canadian) dollar policy limits.
Because the report from the Transportation Safety Board of Canada confirmed pilot error, Steve and Russ were able to secure a settlement of $3.5 million (Canadian) dollars to be equally divided amongst the families within one and a half years of the accident. At the present currency exchange rates, this translates into a financial recovery of approximately one million U.S. dollars for Carole and her children.
The loss of a spouse is never easy and the financial burden can be great. The law firm of Anderson, O'Brien, Bertz, Skrenes & Golla works to help put people back on the road to emotional recovery by removing much of the financial burden surrounding a loss or injury.
The Right Choice and the Right Settlement For A Life-Altering Accident
Dan* never imagined that having his car serviced, and then making a simple left-hand turn would change his life. Yet a routine trip to an auto repair shop left him a quadriparetic. This is Dan's story.
In April of 2003, Carl Ricciardi, an attorney in Tomahawk who formerly worked for a well-known law firm in Wausau, hired Russ Golla, a partner at the Anderson, O'Brien, Bertz, Skrenes & Golla Law Firm, as co-counsel on this complex case. Because of Russ's successful prosecution of auto product liability claims against Ford and General Motors involving paraplegics and quadriplegics, Carl felt Russ was the best choice for his client. Dan had a case against two Wausau, Wisconsin repair shops and their respective insurers.
Dan was injured when the right front wheel of his front-wheel drive vehicle came off while he was executing a left hand turn. With the help of metallurgic and engineering experts, Russ and Carl were able to determine that the wheel did not fall off as a result of a product defect, but rather Dan's vehicle had not been serviced properly. The repair shop removed and replaced the right front wheel, but did not properly tighten the lug nuts. As a result, the lug nuts backed off one and a half turns. Over the course of three weeks of use after the vehicle was returned from the shop, the wheel bolts, or studs, fractured and the wheel fell off.
In the accident Dan sustained a full thickness tear of his right rotator cuff. During the surgery to repair the rotator cuff, his cervical spinal cord was injured resulting in central cord syndrome leaving him a quadriparetic. Being a quadriparetic meant Dan couldn't use his limbs, but unlike a quadriplegic, he could still feel pain. His physical pain was matched by the emotional pain of losing his job and his wife.
The defendants raised many arguments claiming: 1) they had properly tightened the lug nuts; 2) the forces generated by the accident were insufficient to produce a full thickness tear of Dan's right rotator cuff; and 3) Dan's quadriparetic condition was the result of medical malpractice. Consequently, they were unwilling to offer any payment in settlement prior to commencing a lawsuit.
Russ and Carl commenced a lawsuit against the defendants and proceeded to dismantle each of their defenses. First, they demonstrated that the type of rims Dan had on his vehicle required the use of a torque wrench to check the tightness of the lug nuts rather than unreliable impact wrenches and torque sticks. Second, Dan's treating physicians, a biomechanical/biomedical engineer, and a forensic pathologist established, to a reasonable certainty, that the forces produced by the accident were sufficient to tear his right rotator cuff during the accident. Third and finally, with the assistance of Dan's neurosurgeon and a preeminent neurologist, Russ and Carl disproved the defendants' claim of medical malpractice.
Because of expert litigation, the case settled one week before the trial when the defendants' insurers, who formerly refused to pay one penny, agreed to pay $1,150,000. This settlement allowed Dan to purchase a vehicle and a home to accommodate his disability. This, along with social security disability income benefits, will allow for sufficient income to support him for the rest of his life. Dan's entitlement to medical assistance and Medicare benefits for all of his future healthcare needs, including long-term, in-home health care, were preserved by the establishment of a Special Needs Trust. Dan's life will never be the same. However, he will have an opportunity for a life in his own private home, and an opportunity to transport himself in relative freedom in his own vehicle.
*Names have been changed to protect privacy.